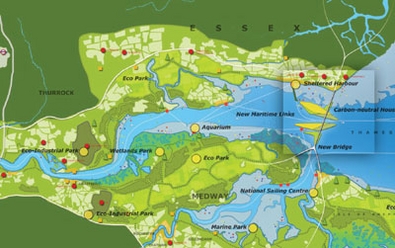 Terry Farrell has unveiled the latest iteration of his idea to turn the whole of the Thames Gateway into a National Park. Proving the naysayers wrong, with an increasingly serious group of backers including the Bank of Scotland, Experian and the Future Foundation, he's not giving up yet.
This more fleshed-out version includes a huge bridge snaking all the way from Shoeburyness in Essex to Sheerness in Kent and various things about how many wind turbines would be needed to cut carbon emissions by 60% (1 every 9.5 ha, in case you're interested, plus oads of solar panels on roofs) and other such stuff. They're hoping to show it to Ruth Kelly before the end of July.
[more for Building subscribers
here
.